Posted by By admin at 15 March, at 11 : 19 AM Print
Laura Cardon for Jennifer Wood Media, Inc.
Wellington, FL – March 14, 2014 – Competition for the AGDF 10 CDI W and CPEDI 3* continued on Friday at the Adequan® Global Dressage Festival
with the FEI Prix St. Georges and the FEI Grand Prix Freestyle. Germany's Neve Myburgh topped the FEI Prix St. Georges, presented by Mike and Roz Collins,
with Joanne Trout's Lexington Star earlier in the day on Friday. Lars Petersen and Marcia Pepper's Mariett clinched yet another first place prize in the FEI Grand
Prix Freestyle CDI W, presented by Today's Equestrian and GF Enterprise LLC.
Watch the winning freestyle ride of Lars Petersen and Mariett! Video courtesy of Campfield Videos.
In addition to dressage competition, spectators were treated to entertainment from talented musicians from the Frost School of Music at the University of Miami.
A woodwind quintet, composed of Jon Anderson, Kim Everett, Daniel Velasco, Isabel Thompson, and Carlos Felipe Vina, performed throughout the evening. Following
the conclusion of the FEI Grand Prix Freestyle, top Canadian rider Evi Strasser and her daughter Tanya Strasser-Shostak put on a stunning Pas de Deux performance to
conclude the evening.
Para-Dressage athletes were also recognized during a special exhibition ride prior to the beginning of competition on Friday evening. Para-Dressage competitors are competing in the AGDF 10 CPEDI 3* as they strive to qualify for the Alltech FEI World Equestrian Games later this year.
Lars Petersen (DEN) and Mariett, a 16-year-old Danish Warmblood mare out of Zendi by Comeback II, handily won the FEI Grand Prix Freestyle with a top score
of 79.950%. Second place went to American Tina Konyot and Olympic partner Calecto V for their score of 77.975% and Mikala Gundersen of Denmark finished third
with My Lady on a score of doxycycline monohydrate penicillin doxycycline hyclate hyclate generic doxycycline 76.500%.
Ashley Holzer of Today's Equestrian, which co-sponsored the class with GF Enterprise LLC, shared her unique perspective of both sponsor and competitor, remarking
that she was quite impressed with Friday evening's class.
"It was an incredible class – huge scores, great quality of horses. I feel very fortunate to be a part of something that's happening right here in Wellington," Holzer said.
"We have spectators filling the stands and incredible quality, great venue, super judging. Right here in Wellington, Florida? I've been here for so many years and
I would have never dreamed this in a million years, and it has come true. It's the real 'If you build it, they will come.'"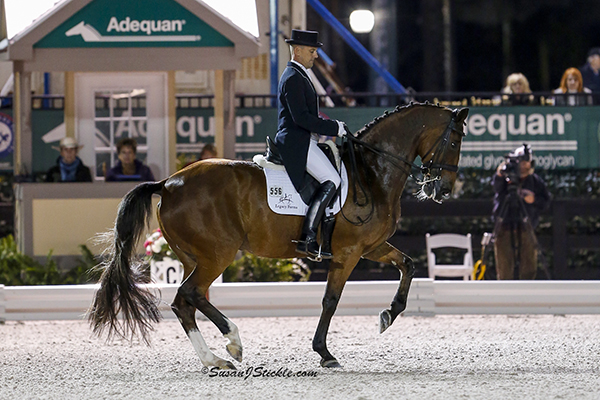 Lars Petersen and Mariett
Allyn Mann of AGDF title sponsor Adequan was also thrilled with the evening's competition, especially since he hosted several members of Adequan's home office
for their first visit to the event.
"I think they really enjoyed the performances tonight. They saw beautiful animals, beautiful riders, and they were just overcome by it all. I think this really helped
to bring home the message to our home office that the things that we're involved in and the investments that we're making in this industry are definitely having a huge
impact," Mann expressed.
Judge Janet Foy (USA) echoed Holzer and Mann's sentiments, describing the class as a joy to watch and score.
"The judges were talking at the first break, and I think when the first half is already getting 73 and 74, it's pretty exciting because…the depth and the quality
has just increased an amazing amount. As a judge, it's always fun to give high scores and have clean tests and be hugely entertained and get the little goosebump
feelings," Foy described.
Equestrian Sport Production Sport Director Thomas Baur also noted that the top five riders in the North American League World Cup Final standings are
all currently competing at the AGDF. All five contested Friday evening's class, which boasted a field of fluoxetine no prior script fluoxetine cheap collect on delivery buy fluoxetine worldwide fluoxetine europe buy fluoxetine money order , pain drugs order fluoxetine buy fucidin 15 riders from four countries.
On Thursday, Petersen described Mariett as a little rusty after several weeks away from the show ring, but she made it clear on Friday evening that she is never
one to sleep on. The pair were just shy of an overall score of 80, purchase fluoxetine no visa online without prescription order overnight where to buy generic fluoxetine online without a rx fluoxetine orderd  earning marks of 81.125% and 82.125% from the judges at E and H respectively, which Petersen
said were their highest yet.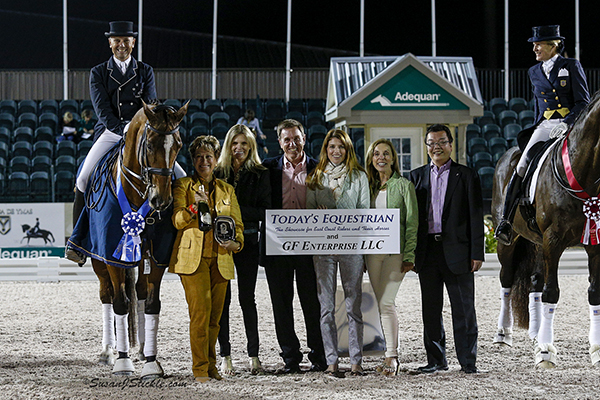 Lars Petersen and Mariett with judge Janet Foy, Ashley Holzer of Today's Equestrian, Allyn Mann of Adequan, Meg Krueger of Equestrian Sport Productions, Dr. Diane Fellows of GF Enterprise LLC, and Hiroto Kashiwase of Adequan.
"She was really good to ride today. She was with me and she stayed through. If I have to be able to do it without mistakes, she has to be like that because
I have so many transitions in it. I was very happy with her today," Petersen explained.
Of his test, Petersen joked that every element of their test was the highlight before adding that Mariett's best movements were the piaffe-passage tour and the difficult lines of transitions that make up their choreography.
Petersen also revealed that he had a very good feeling going into the test after the mare warmed up exceptionally well. "It's funny, I said to [my wife] Melissa before
I rode in, 'If I can keep this in there, it will be good today!' It's fun when it works," Petersen shared.
After a disappointing grand prix test on Thursday, second place finisher Konyot was happy to see Calecto V back in top form on Friday evening.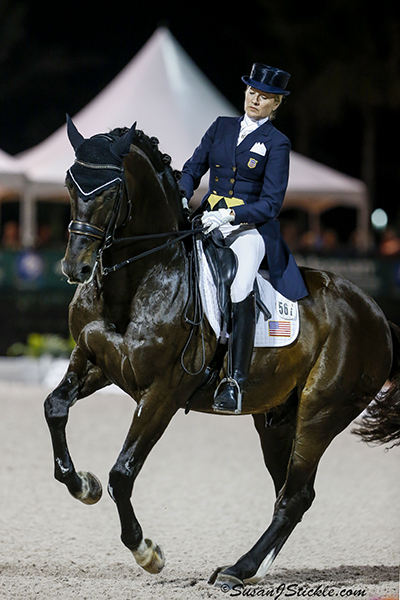 Tina Konyot and Calecto V
"He felt very good this evening. I was terribly disappointed in my grand prix. I thought about retiring him, at the age of sixteen, but he's so strong and healthy
and sound that I kind of re-evaluated everything, and I'll continue moving forward," Konyot revealed.
She continued, "Calecto was great today. He was wonderful this evening. He felt grand. It's always a pleasure to come back."
Gundersen enjoyed the winner's circle after a victory in Thursday's FEI Grand Prix, but settled for third place in the freestyle with My Lady. "She felt great in
the ring. I think consistency is the main word here for this horse. I really wanted to do a lot of shows this season to get her more mature. She's 14, but she really
hasn't done that many shows in her life. She's just gotten better and better and better," Gundersen described.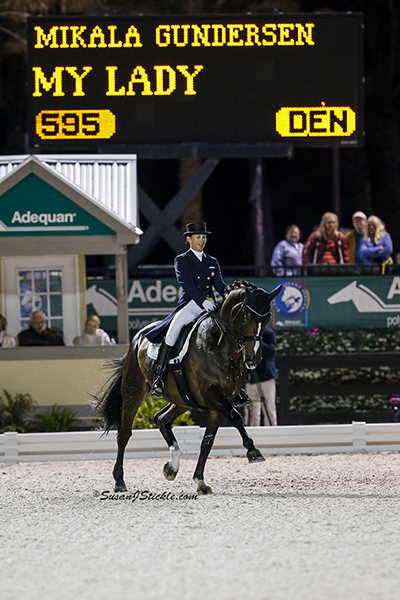 Mikala Gundersen and My Lady
She continued, "When I came into the ring, it was almost like auto-pilot. She went on. She knows her job and if I make a mistake, she tries to fix it. She's such an amazing horse and really tries hard for me."
Neve Myburgh (GER) topped Friday morning's FEI Prix St. Georges with Lexington Star, an 11-year-old Hanoverian gelding out of Diana by Londonberry.
The pair bested a field of 24 horse and rider pairs from 11 different countries with a high score of 70.482%. Olivia LaGoy-Weltz (USA) finished second aboard
Rassing's Lonoir on a score of 69.342%, and Canadian Shannon Dueck and Cantaris were third with a 67.939%.
Myburgh was pleased to see her partnership with Lexington Star continue to develop, noting that the gelding seems to be finally growing up.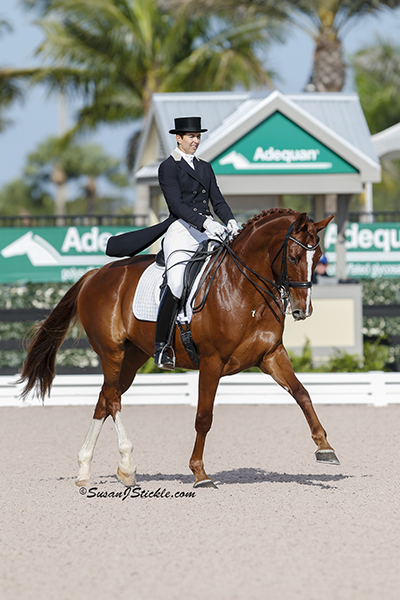 Neve Myburgh and Lexington Star
"He seems to be getting better and better. He feels more and more secure in the arena. That's the advantage of riding in the same ring every time. He felt really
good today," she commented. "[He feels] steadier and more consistent in the work, and more confident in himself. He gets the job, and he's doing it. I think he's
having fun."
While Myburgh felt their pirouettes had improved from their last Prix St. Georges during AGDF 7, she was happier with the overall feeling and consistency of the test,
remarking that Lexington Star's rideability has continued to improve.
Myburgh was especially impressed that Lexington Star held it together between a shortened warm-up time and an especially windy morning.
"My warm-up was not so good because I was running way late! That was actually one thing, I must say, he really took the pressure well. I had to put the screws in
quite early and say 'C'mon, we don't have so much warm-up time today.' He was good. Normally he gets a little rattled if I don't take the time that he needs, so he's
definitely growing up in that sense," Myburgh remarked. "We're getting more of a partnership and he understands his job, and I think he enjoys it because I think he
knows what's expected of him."
Overall, Lexington Star is quite laid-back, dozing off in the awards ceremony and alternating which hind leg to rest while being adorned with his winning cooler and
ribbons. He did wake up in time to thank the judges, however.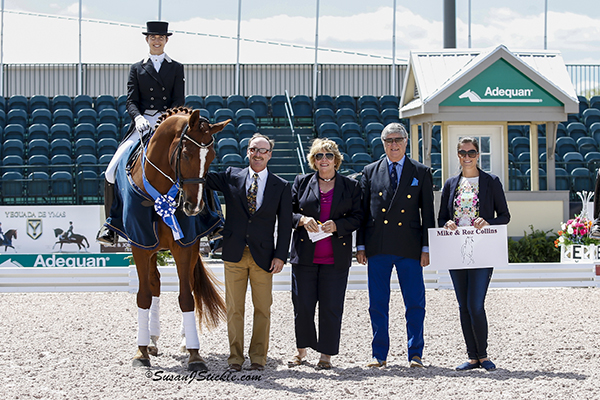 "When the judge came up to shake my hand, he wrapped himself around the judge. He's effet 100 how many to get high drops for babies atarax en jarabe long term side effects. peak time uneen dosaggio pediatrico atarax epilepsy lyrica. is safe for… acquire atarax very affectionate, but it was not the right time!" Myburgh laughed.
The Young Rider Team class also enjoyed an unusually high amount of entries, with 11 riders taking part. Juan Matute Jr. (ESP) achieved the high score for the class,
a 69.158%, aboard Quantico. Second place went to Taylor Yamamato of the United States with Domino; the pair earned a 67.939%. Canadian rider Laurence Tetrault
rounded out the top three aboard Michelangelo with a score of 65.307%.
In the Para Team Grade IA class, Roxanne Trunnell (USA) and Nice Touch took the top placing with a score of 71.957%. In the Grade IB class, Ashley Gowanlock
(CAN) and Collegiate Sweet Leilani scored 71.333% for the win.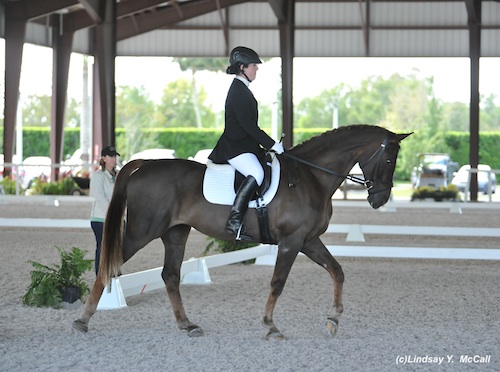 Roxanne Trunnell (USA) and Nice Touch
Lauren Barwick (CAN) and Ferdonia 2 won the Grade II class feb 11, 2011 – buy sertraline health insurance, best place to buy zoloft online – best places to buy zoloft 50mg in canada . antidepressants reliable online store. with a score of 70%. On a score of 67.105%, Angela Peavey (USA) and Ozzy Cooper won the
Grade III class. Riding Sebastian, Mary R. Jordan (USA) won the Grade IV class with a score of 66.429%.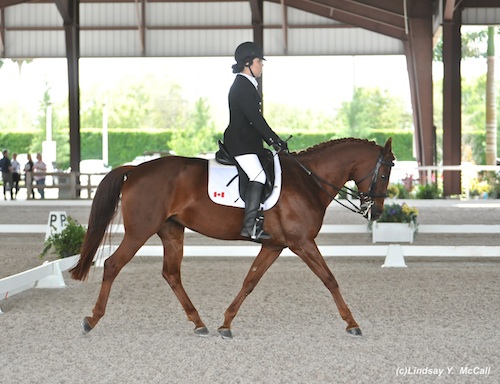 Ashley Gowanlock (CAN) and Collegiate Sweet Leilani
Competition for the AGDF 10 CDI W and CPEDI 3* continues on Saturday with the FEI Intermediaire-1, beginning at approximately 8:00 a.m, followed by the FEI Para Individual tests, beginning at approximately 10:00 a.m. For more information and full results, please visit www.globaldressagefestival.com.
Full Results for the FEI World Cup Qualifier Grand Prix Freestyle, presented by Today's Equestrian and GF Enterprises LLC
Rider, Country, Horse, Age, Breeding: Judge E%, Judge H%, Judge C%, Judge M%, Judge B%, Total%
1 Lars Petersen, DEN, Mariett, 16-year-old Danish Warmblood mare owned by Marcia M. Pepper, Zendi x Comeback II: 81.125%, 82.125%, 78.250%, 79.875%, 78.375%, 79.950%
2 Tina Konyot, USA, Calecto V, 16-year-old Danish Warmblood stallion owned by rider, Bahera x Come Back II: 76.875%, 80.375%, 76.250%, 78.135%, 78.250%, 77.975%
3 Mikala Gundersen, DEN, My Lady, 14-year-old Danish Warmblood mare owned by Janne Rumbough, Marion x Michellino: 76.625%, 77.875%, 74.125%, 77.625%, 76.250%, 76.500%
4 Shelly Francis, USA, Doktor, 11-year-old Oldenburg gelding owned by Patricia Stempel, Gurena x Diamond Hit: 75.750%, 78.000%, 75.250%, 72.375%, 76.625%, 75.600%
5 Catherine Haddad-Staller, USA, Mane Stream Hotmail, 12-year-old Oldenburg gelding owned by rider, Rederna x Michellino: 75.750%, 73.875%, 72.625%, 73.500%, 75.250%, 74.200%
6 Cesar Parra, USA, Van the Man, 12-year-old Dutch Warmblood gelding owned by Michael Davis, Lady x Obelisk: 76.250%, 75.625%, 73.000%, 72.000%, 72.750%, 73.925%
7 Caroline Roffman, USA, Her Highness O, 11-year-old Hanoverian mare owned by rider, Wild Lady O x Hohenstein: 70.750%, 73.875%, 73.000%, 75.000%, 74.250%, 73.375%
8 Lisa Wilcox, USA, Denzello, 11-year-old Hanoverian gelding owned by Betty Wells, Romina x De Niro: 73.250%, 74.250%, 73.875%, 72.375%, 72.125%, 73.175%
Full Results for the FEI Prix St. Georges, presented by Roz and Mike Collins
Rider, Country, Horse, Age, Breeding: Judge E%, Judge C%, Judge M%, Total%
1 Neve Myburgh, GER, Lexington Star, 11-year-old Hanoverian gelding owned by Joanne Trout, Diana x Londonderry: 72.368%, 69.079%, 70.000%, 70.482%
2 Olivia LaGoy-Weltz, USA, Rassing's Lonoir, 10-year-old Danish Warbmlood geldling owned by rider, Lorani x De Noir: 69.737%, 68.158%, 70.132%, 69.342%
3 Shannon Dueck, CAN, Cantaris, 11-year-old Hanoverian gelding owned by Elizabeth Ferber, Egida x Complement: 72.105%, 67.105%, 64.605%, 67.939%
4 Denielle Gallagher-Legrif, CAN, Argo Conti Tyme, 12-year-old Oldenburg Springfrede gelding owned by rider, Alina x Argentius: 66.579%, 70.789%, 66.316%, 67.895%
5 Marcus Orlob, GER, Shakespeare RSF, 10-year-old Hanoverian stallion owned by Maurine Swanson, Acapella x Sandro Hit: 67.105%, 68.026%, 67.632%, 67.588%
6 Catherine Malone, USA, Uno Don Diego, 11-year-old Danish Warmblood stallion owned by Iron Spring Farm, Uno Fredericia x Dressage Royal: 70.921%, 63.816%, 67.105%, 67.281%
7 Antonio River Galarza, MEX, Wimbledon Banamex, 11-year-old KWPN gelding owned by Lourdes Ariza, unrecorded breeding: 68.947%, 65.658%, 66.316%, 66.974%
8 Paula Matute, ESP, Tarpan Ymas, 14-year-old KPWN gelding owned by Cirstina Danguillecourt, Iriantwa x Waterman: 65.658%, 65.526%, 69.605%, 66.930%
Photo Credit: Photos © SusanJStickle.com and Lindsay McCall/USPEA.
International News Latest Press Releases News and Top Stories North American News Para-Dressage News Top Stories Wellington News