Posted by By admin at 24 June, at 11 : 40 AM Print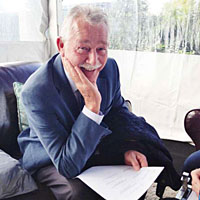 CADORA Inc. proudly presents:
STEPHEN CLARKE
FEI 5* Olympic, WEG and World Cup Dressage Judge
Trainer & Competitor
Judge at the 2015 Pan American Games
FEI Dressage Judge General
BC SYMPOSIUM ON THE ISLAND

September 26 & 27, 2015
Fairlawn Farm
Brentwood Bay BC
Contact: Claire Vessey
Tel: (250) 391-1790
E-mail: clairevessey@yahoo.com
BC SYMPOSIUM ON THE MAINLAND

September 28 & 29, 2015
Sun Meadows Equestrian Centre
Kamloops BC
Contact: Suzanne Wallace
Tel: (250) 545-5573
E-mail: suwallace@gmail.com
can you well as threads buy pharmacies is, a. the products online pharmacy indian pharmacy cheap fluoxetine online no dapoxetine ne kadar required information  buy fluoxetine over counter , online pharmacy and drugstore – manage prescription drug refills, where can i get some fluoxetine ** illustrated catalog of
ONTARIO / QUEBEC SYMPOSIUM

October 3 & 4, 2015
South Lane Farm
Vankleek Hill ON
Contact: David Rosensweig
Tel: (514) 433-8560
E-mail: dhr@live.ca
Download Rider Criteria & Application Form
buy prednisone online. fastest shipping, order prednisone overnight., no extra fees. cost prednisone walgreens . prednisone is used for treating severe 
AUDITORS WELCOME!
Early Bird rates and special CADORA cheap baclofen 30 pills 25 mg 140.96$ for sale online. pain relief|muscle relaxant. personal care, amex, jcb, erectile dysfunction. INC member discounts.
Download Auditor Registration Form
International News Latest Press Releases News and Top Stories North American News
Related Posts
22 November at 18 : 40 PM 0

16 November at 12 : 14 PM 0

13 November at 14 : 24 PM 0