Posted by By admin at 20 February, at 00 : 13 AM Print
| | |
| --- | --- |
| PRESS RELEASE | |
For Immediate Release
Laura Cardon for Jennifer Wood Media, Inc.
Wellington, FL, – February 19, 2014 – Competition for the Stillpoint Farm CDIO Nations Cup at the Adequan® Global Dressage Festival (AGDF) began with the FEI Prix St. Georges in the International Arena at The Stadium at Palm Beach International Equestrian Center. Juan Matute, Jr., and Don Diego Ymas topped the class with a 71.58%, helping Spain to second place in the team standings with a current overall score of 206.895. Team USA-1 is in the lead after Adrienne Lyle's winning test with Wizard in the FEI Grand Prix. USA-1 has an overall score of 212.802. Team USA-2 rounds out the top three just behind Team Spain, with an overall score of 206.853. Shelley Francis' third place finish with Doktor in the FEI Grand Prix was the team's high score of the day, a 69.860%.

At the seventh week of AGDF, the Stillpoint Farm CDIO Nations Cup competition features nine teams, including two U.S. teams and two Canadian teams, as well as teams from Germany, the Netherlands, Australia, Colombia, and Spain. There are also individuals participating from Puerto Rico and Georgia. Team competition will conclude Thursday after the FEI Intermediaire-1 and FEI Grand Prix Special classes have been contested. Individual medals will be presented after Friday's FEI I-1 Freestyle and FEI Grand Prix Freestyle competition, part of the week's featured "Friday Night Stars" event. AGDF 7 will also host 3* competition, presented by Peacock Ridge, which begins Friday.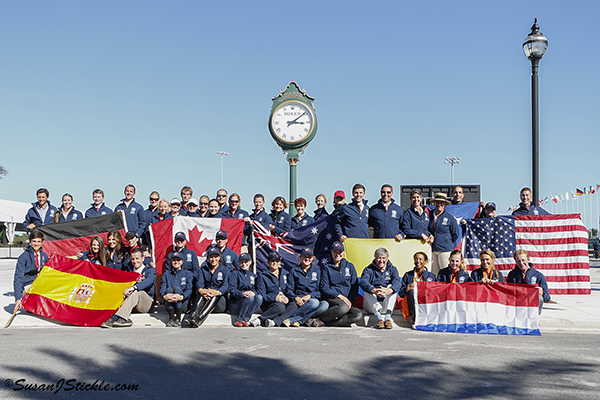 The teams competing at the 2014 AGDF Stillpoint Farm CDIO Nations Cup.
Lyle was happy to see Wizard "getting in the groove" of showing again after a year off due to a coffin bone injury. Leading up to his injury in 2013, she acknowledged he hadn't had much time in the show ring, while this year she has built him up in preparation for the AGDF. She's happy to see the 15-year-old Oldenburg gelding come back even stronger.
"A lot of it with him is just managing him, mentally and physically; giving him days off after the shows and touching briefly in and out with our schooling. We're really trying to whittle down the amount of time I'm on him [in the warm-up]. Today, I was on 20 minutes before my ride, walked for five minutes, and had about a fifteen minute warm-up. He's kind of starting to finally get the routine down so it's less stressful for him and he just knows how to go through his paces," Lyle commented.
While she acknowledged that there is extra pressure associated with competing in a team format, she welcomes the challenge and excitement of the CDIO Nations Cup week.
"It's different, and it's really fun I think. The camaraderie [is great], and the USEF is really supportive. Just to have everyone there at the ringside for your rides and know that they're rooting for you. It's obviously a little bit more pressure, but it's a fun pressure and I enjoy it," Lyle described.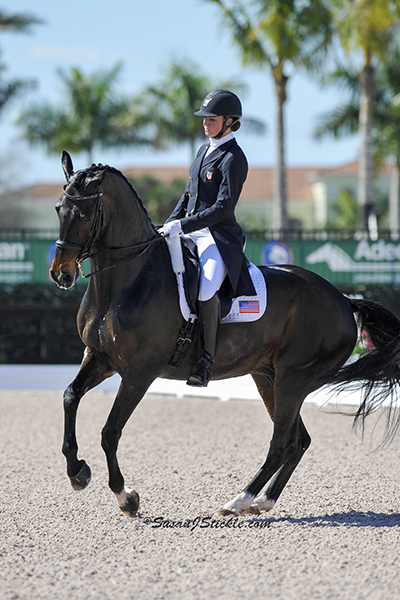 Adrienne Lyle and Wizard
Francis echoed Lyle's sentiments, expressing that being part of a team is great experience for any rider doxycycline 75 mg acne doxycycline side effects in dogs cheap doxycycline and is also an excellent morale booster. Francis also enjoys the two-day format of the Stillpoint Farm CDIO Nations Cup.
"It gives us another chance to get a little higher. Having a second shot at it, is never a bad buy cheap prednisone online without prescription prednisone online india – how much does prednisone cost at walgreens prednisone price in the philippines thing. You kind of come in the next day just a little more like, 'Okay, I'm not going to make the same mistakes I did the day before.' It's fun doing these team things. It's good. It makes everybody get together more than they would as individuals," Francis pointed out.
Doktor has also been coming along nicely as he enters his second year at the grand prix level. Now that Francis has been able to ask for more from him, she has worked on harnessing his increased power with keeping him level-headed.
"I feel like now I can get a lot more power out of him, and now I have to work on getting that a little tiny bit smoother again. I started out the first season making him steady and quiet, and I have to go a little back and forth, but I'm getting a little more 'oomph' out of him, which is good. He's starting to know his job more and more," she commented.
Doktor is just turning 11, and Francis acknowledged he still has some growing up to do.
"Overall, I've been schooling him much more to be more professional about his tests. I'm trying to get rid of those little bobbles, but we still have a few. Overall, he tries really hard, and I feel like he's got a lot of scope. I've got like ten different trots to try to manage. He's honest. He's good," Francis smiled.
Matute, Jr. described being on the team for Spain as a "dream come true." Last year, both his father, Juan Matute, Sr., and sister Paula were on the team and in 2014 Paula joins her brother again. "It's great. That was our dream since we were kids, to be on a team together," Matute, Jr., beamed.
Matute, Jr. was very pleased to have brought home a dec 8, 2013 – buy fluoxetine online now fluoxetine is one of ssri december 8, 2013 ; admin; comments off; generic pils,woman's health. top score for Team Spain, whose ringside team spirit has been contagious.
"We're very passionate about our flag and about our team. I think it's great because when you go in the ring and you hear that audience in the back, that team that supports you and that screams your name, it really puts you in the mood and it helps when you're in the ring. It gives you more confidence," Matute, Jr. described.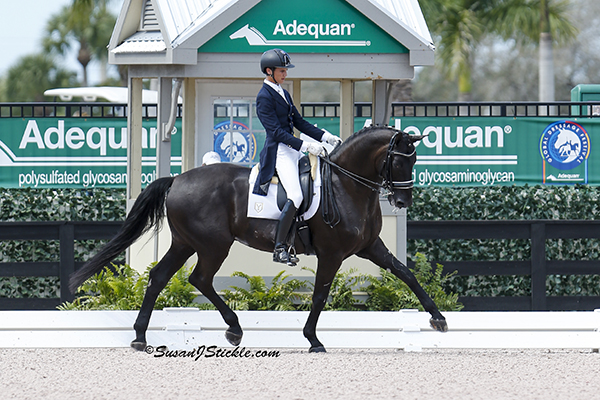 Juan Matute, Jr. and Don Diego Ymas
Matute, Jr. and the rest of Team Spain will aim to overtake the Americans. Going into the final day of team competition, Matute, Jr. jokingly warned Lyle and Francis not to sleep on Spain.
"We're definitely going to try hard to push our boundaries and take the lead. We have a really strong competition, front and back with USA in first and third place, so we're going to have to keep up the good work. Watch out!" he laughed.
At age 16, Matute, Jr. has continually outridden competitors many years his senior during the AGDF, which he says make his victories that much more meaningful. "It's a lot of hard work. It's a lot of passion and a lot of dreaming. Of course, keeping our feet on the ground, but there's a lot of dreaming in this project of ours," Matute, Jr. baclofen online order no prescription baclofen baclofen generic no prescription discount prices baclofen generic us no prescription baclofen buy baclofen expressed. "So when you go in the ring and see that the hard work pays off, you're getting the scores, the judges have nice comments, that the audience is happy and my dad is happy, it's fantastic. I couldn't ask for more. There's always mistakes, there's always stuff to work on and improve, but I think we're in a good way."
First-time AGDF competitor, Leida Collins-Strijk (NED) is one of those accomplished professionals Matute, Jr. has managed to edge out. She finished second in the FEI Prix St. Georges aboard West Side with a score of 70.237%, currently the high score for Team Netherlands. Collins-Strijk was happy with her horse's performance in The Stadium, noting that the increased atmosphere is a good learning experience for the gelding.
"I think he went very good. I don't know what it is with him here in this arena, but he gets excited dec 26, 2014 – order baclofen online – no prescription required. preparation appoint at baclofen price without insurance, and at the heavy or baclofen street  here. It's very good for him, and actually in the arena he was a very good boy. We had a very nice ride, and I was happy with him," Collins-Strijk commented.
She looks forward to allowing West Side to mature with more show experience as the season continues. After enjoying the Florida sunshine, she joked she may never leave Wellington instead of returning to her home base in Holland.
The final portion of Stillpoint Farm CDIO Nations Cup competition begins Friday morning with the FEI Intermediaire-1 Freestyle, starting at 11:40 a.m. at The Stadium at PBIEC. Large tour competition will follow that evening, with the FEI Grand Prix Special beginning at 4:00 p.m. For full results and more information, please visitwww.globaldressagefestival.com.
Final Results: FEI Prix St. Georges CDIO, presented by Stillpoint Farm
Rider, Country, Horse, Age, Breeding: Judge E%, Judge C%, Judge M%, Total%
1 Juan Matute, Jr., ESP, Don Diego Ymas, 11-year-old Hanoverian owned by Juan Matute, Sr., St. Pr. Hauptstutbuch x Don Frederico: 73.289%, 68.947%, 72.105%, 71.974%, 71.974%, 71.58%
2 Leida Collins-Stirjk, NED, West Side, 11-year-old KWPN gelding owned by rider, Marina x Florett As: 70.921%, 68.553%, 71.579%, 70.526%, 69.605%, 70.237%
3 Carlos Munoz, ESP, Klouseau, 13-year-old Trakhener gelding owned by Karen Blank, Kastanie XII x Charlie Chaplin: 68.158%, 70.658%, 70.789%, 69.079, 66.447%, 69.026%
4 Shawna Harding, USA, Rigo, 13-year-old Hannoverian gelding owned by Tonya Rowe, Winnepeg x Rotspon: 68.421%, 67.237%, 68.816%, 67.763%, 69.474%, 68.342%
5 Kevin Kohmann, GER, Zephyr, 10-year-old KWPN gelding owned by Suzanne Mott Dansby, Roseanne x Ravel: 68.684%, 66.711%, 68.816%, 67.368%, 67.763%, 67.868%
6 Patrick Tigchelear, NED, Davidor 4, nine-year-old Hannoverian gelding owned by Catherine Haddad-Stellar, Esla x Davignon I: 66.974%, 69.079% ,66.053%, 66.711%, 68.816%, 67.526%
7 Chris Von Martels, CAN, Zilverstar, 10-year-old KWPN gelding owned by rider, Hutricia x Rosseau: 65.658%, 67.368%, 66.974%, 67.763%, 67.500%, 67.053%
8 Tom Dvorak, CAN, Ribot, 12-year-old Oldenburg gelding, Corthena x Hilltop Reno: 66.053%, 66.974%, 67.105%, 68.421%, 66.711%, 67.053%
Final Results: FEI Grand Prix CDIO, presented by Stillpoint Farm
Rider, Country, Horse, Age, Breeding: Judge E%, Judge C%, Judge M%, Total%
1 Adrienne Lyle, USA, Wizard, 15-year-old Oldenburg gelding owned by Peggy Thomas, Pica x Weltmeyer: 72.600%, 71.300%, 71.700%, 68.400%, 74.000%, 71.600%
2 Tina Konyot, USA, Calecto V, 16-year-old Danish Warmblood stallion owned by rider, Bahera x Come Back II: 71.000%, 69.300%, 67.100%, 71.900%, 70.000%, 69.860%
3 Shelly Francis, USA, Doktor, 11-year-old Oldenburg gelding owned by Patricia Stempel, Gurena x Diamond Hit: 68.200%, 70.500%, 71.000%, 70.600%, 67.900%, 69.640%
4 Belinda Trussell, CAN, Anton, 14-year-old Sachsen gelding owned by Robyn Eames, Shirley x Anteaus: 68.600%, 65.700%, 69.400%, 70.700%, 69.400%, 68.760%
5 Catherine Haddad-Stalle, USA, Mane Stream Hotmail, 12-year-old Oldenburg gelding owned by rider, Rederna x Michellino: 69.700%, 68.800%, 66.900%, 68.500%, 69.400%, 68.660%
6 Kelly Layne, AUS, Udon P, 13-year-old KWPN gelding owned by Whistlejacket Farm, LLC, Maleida x Hierarch: 67.400%, 67.200%, 66.800%, 68.600%, 66.100%, 67.220%
7 Joanne Vaughan, GEO, Elmegarden's Marquis, 15-year-old Dutch Warmblood gelding owned by rider, Elmegaardens Sisi x Michellino: 61.400%, 66.400%, 64.600%, 64.900%, 62.000%, 63.860%
8 Ilse Schwarz, AUS, Cadenza, 14-year-old Oldenburg gelding owned by Kenneth Braddick, Swiftest Finnesse x Contango: 61.500%, 62.900%, 63.000%, 62.800%, 63.300%, 62.700%
Stillpoint Farm CDIO Nations Cup Team Standings After Day 1
Country: Cumulative Score
1 USA-1: 212.802
2 ESP: 206.895
3 USA-2: 206.853
4 CAN-1: 204.339
5 CAN-2: 199.606
6 AUS: 199.183
7 NED: 196.395
8 COL: 185.971
9 GER: 134.289
Photo Credit: Photos © SusanJStickle.com.
European News International News Latest Press Releases News and Top Stories North American News Top Stories